Overview
Every family is unique and faces unique issues when marriages are dissolved or circumstances require a new plan for the care of the children.
Family law is a mosaic of complex issues which require multi-disciplinary knowledge and project management skills. Successful resolution requires the assistance of attorneys who possess the training, experience and skills to manage high net worth financial issues, many times in conjunction with the transitioning of the family unit. Multiple extended family members may be affected by a divorce, or change in custody of a child. Creative strategies must be implemented to achieve unique client goals. Colleagues and clients have recognized the stature and commitment of the attorneys at Pullman & Comley.
The Family Law team at Pullman & Comley has designed efficiencies to maximize value of each team member's participation to meet client goals.
With offices in upper and lower Fairfield County, Hartford, and White Plains and Springfield, Massachusetts, the team can respond effectively statewide and beyond. Team members are trained trial lawyers, skilled negotiators and able mediators, who assist clients in efficient and effective resolution of family law disputes. All members of the team help clients understand the process which will best suit the specific goals of each individual client and matter, respecting the long term interests of transitioning a family.
Our work includes:
High profile divorce and custody issues
High net worth divorces
Child custody and parenting issues
Complex family matters
Drafting and litigating prenuptial and postnuptial agreements
Litigation, arbitration and mediation
Appeals to all courts
Complexities in dissolving same sex marriages and relationships
Collaborative Divorce
We have a deep bench.
Our Family Law Practice Group is led by Attorney Campbell Barrett who is the Past President of the Connecticut Chapter of the American Academy of Matrimonial Lawyers. He tries cases across the state and has successfully argued significant family law cases of first impression in Connecticut's Supreme and Appellate Courts.
Attorney Livia DeFilippis Barndollar is a nationally recognized and accomplished divorce attorney, handling the most complex and high net worth cases. Her representation is the gold standard, achieving advantageous outcomes for clients at trial and through settlement, built on her knowledge of the law and her keen understanding of her clients' cases and objectives.
Attorney Jon Kukucka is a creative advocate who likes a challenge. He is the lawyer you want in your corner when settlement isn't possible.
Attorney Kelly Scott joined us after five years at a family law boutique firm and work at Connecticut's Regional Family Trial Docket. She ably counsels clients through the court process, firmly negotiates to her client's advantage and succinctly presents and argues those matters that require judicial resolution.
Stacie L. Provencher joined the Family Law practice as an associate in 2021, following several years working as a family law paralegal while pursuing her law degree. She handles all types of family law matters, particularly contested divorce and custody cases and family law appeals.
Pullman & Comley's Family Law team has consistently been recognized by legal industry rankings, including Best Lawyers, Super Lawyers, Super Lawyers "Rising Stars," Connecticut Law Tribune's "New Leaders in the Law" and "Best Family Law Group", and the American Institute of Family Law Attorneys "Connecticut's Ten Best." These honors serve as recognition of the diligent and scholarly work that the group does on behalf of its clients.
The Pullman & Comley Family Law team is selected by clients throughout the state because of our attorneys' mastery of the complexity of property distribution and asset valuation. We frequently represent high net worth individuals in high profile litigated matters as well as those in which clients seek privacy, discretion and anonymity. The Family Law practice has significant experience in handling these matters as they arise in the continuum of pre-divorce, the divorce and post-divorce.
A leader in the LGBTQ community, Pullman & Comley is proud of the depth of experience of our Family Law practice in representation of clients in marital and non-marital same-sex relationships.
Our attorneys lecture widely, and have authored various chapters and articles in treatises in the field.
Our Appellate Family lawyers established new family law precedents in the Connecticut Supreme Court, and have been involved in some of the most significant cases shaping the Family Law landscape, including:
Lump sum alimony award does not constitute impermissible property distribution under terms of prenuptial agreement. Hornung v. Hornung, 323 Conn. 144 (2016).
Custodial parents may obtain an upward modification of child support based on an increase in the non-custodial parent's income. McKeon v. Lennon, 321 Conn. 323 (2016).
The parameters for child support in high income cases. Dowling v. Szymczak, 309 Conn. 390 (2013).
The recognition of postnuptial agreements in the state. Bedrick v. Bedrick, 300 Conn. 691 (2011).
The operative definition of property for the equitable distribution of assets. Mickey v. Mickey, 292 Conn. 597 (2009).
The legal test for the modification of alimony based on a claim of cohabitation. Gervais v. Gervais, 91 Conn. App. 840 (2005).
The permissible use of capital gains in alimony modification cases. Gay v. Gay, 266 Conn. 641 (2003).
Because the practice of family law encompasses a wide-range of interdisciplinary fields of law, our family law clients benefit from Pullman & Comley's extensive knowledge and experience in the related areas of real estate, tax planning, trust and estates planning, corporate law and bankruptcy.
Case Studies
Pullman's Family Law team was recognized at the 2022 Connecticut Legal Awards celebration with the "Specialty Litigation Department of the Year" award.
Video Series
Video Series
Pullman & Comley is pleased to introduce our Family Law Video Series, designed to help answer the most frequently asked questions about divorce, child custody and pre- and post nuptial agreements. In the first four short videos in the series, attorneys Jon T. Kukucka and Kelly A. Scott sit down to discuss important topics they face with their clients on a regular basis.
What are Automatic Orders and How Will They Affect Me Once I File for Divorce?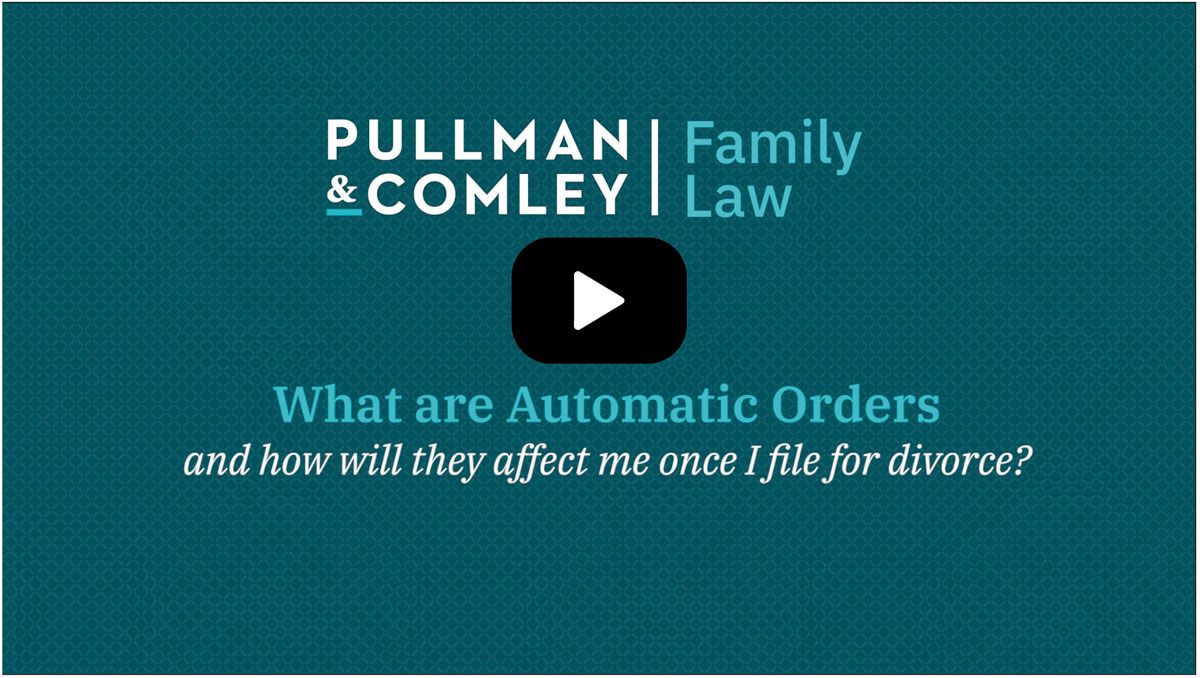 Kelly Scott explains automatic orders, which are intended to maintain status quo while the divorce is pending and restrict each party's ability to transfer assets, incur unreasonable debts, or change the terms on insurance policies, during this time.
Is a Prenuptial or Postnuptial Agreement Right for Me?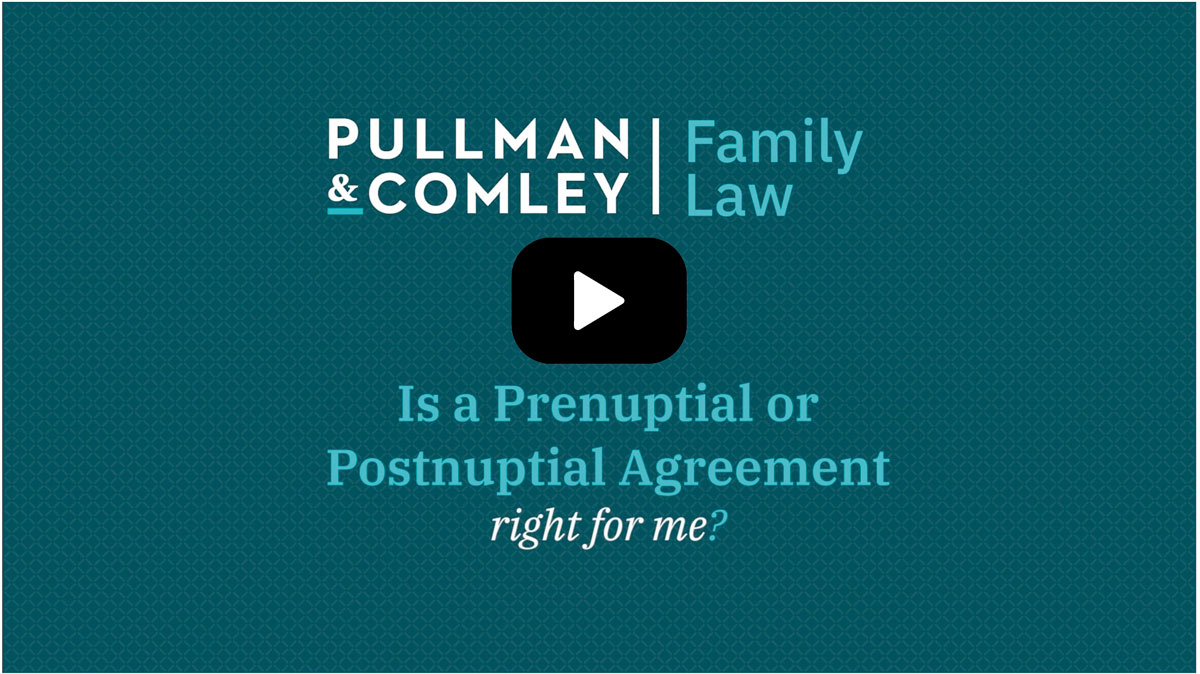 Prenuptial and postnuptial agreements are written contracts created before or after entering a marriage that outline the ownership of financial assets in the event of a divorce. Jon Kukucka covers possible reasons to consider using one of these agreements.
How are Stock Options Handled in a Divorce?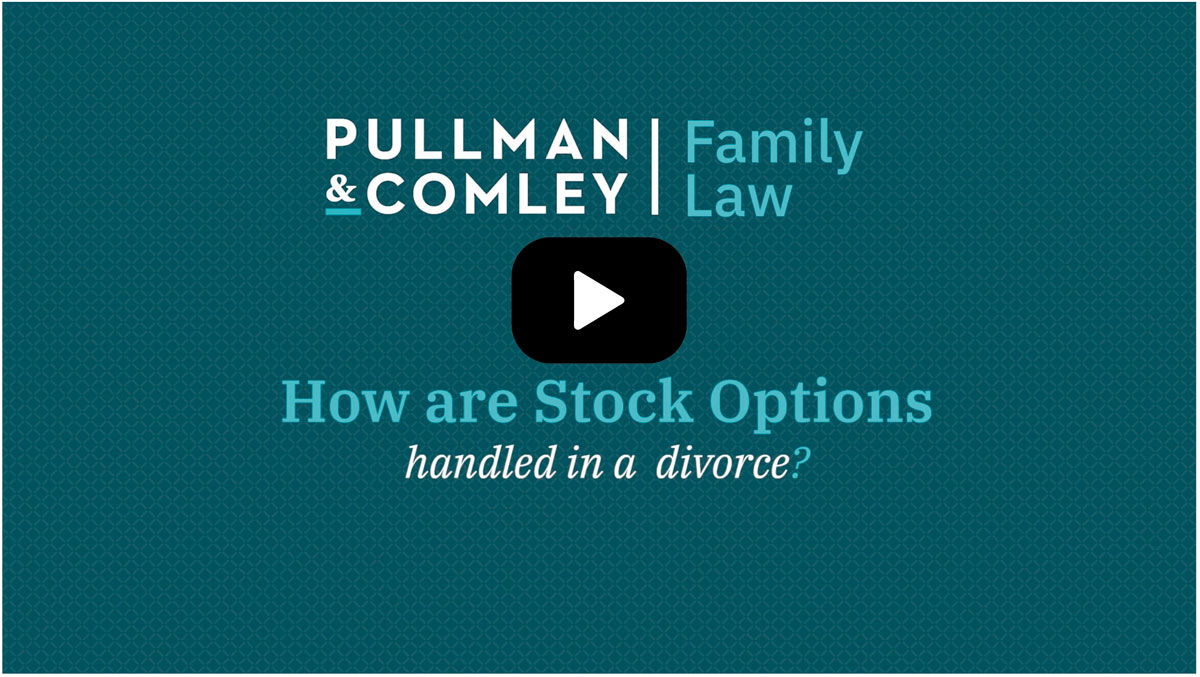 Jon Kukucka explains how stock options can be treated as assets subject to distribution in a divorce. He also discusses the difference between vested and unvested stock options, and how to proceed when both parties in a divorce have these options available to them.
What to Know About Property Division in a Connecticut Divorce?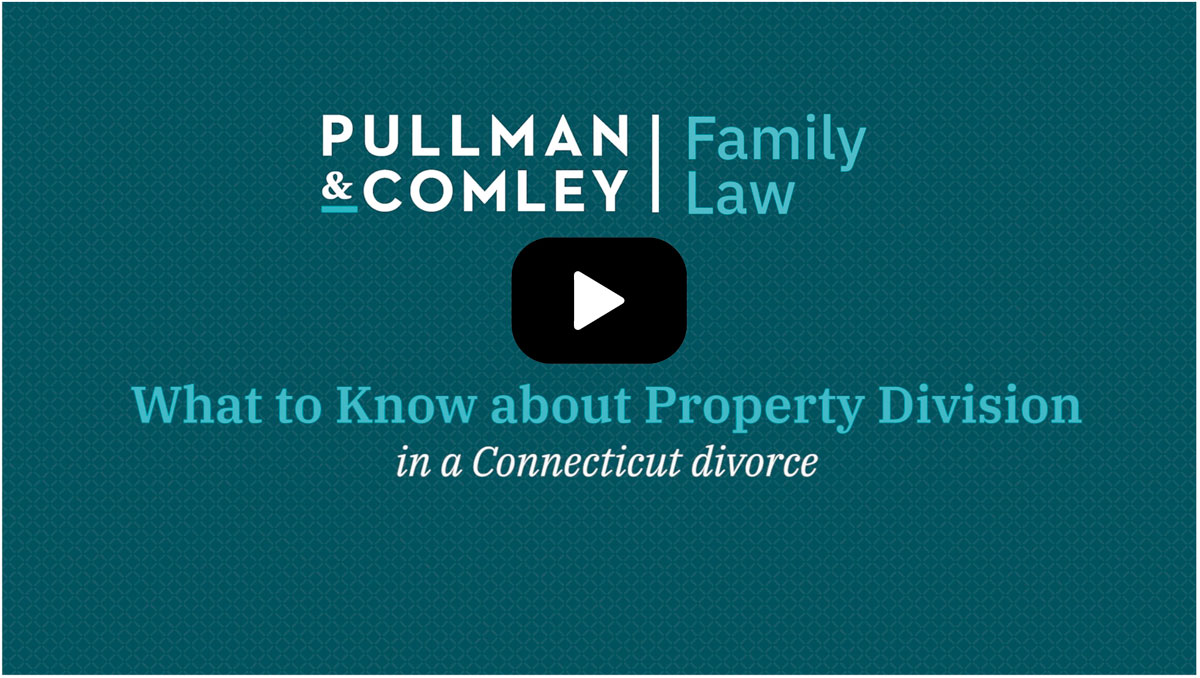 Kelly Scott discusses the process of dividing property belonging to a couple, and how being an "all property state" affects those going through a divorce in Connecticut. Kelly also covers 15 factors that judges consider in property division.