Overview
The Alternative Dispute Resolution (ADR) practice group at Pullman & Comley offers mediation and arbitration services in complex civil matters in state and federal court, including commercial, construction, employment, environmental, health care, insurance, personal injury and probate disputes.
Pullman & Comley's ADR practice group has received regional and national recognition for its expertise and success in assisting counsel and their clients in resolving high value, complex multi-party disputes. Drawing on its roster of retired judges who collectively have almost 100 years of judicial experience, as well as AAA approved attorneys with significant litigation and transactional experience the ADR group has broad and sophisticated subject matter expertise in a wide range of civil disputes. Representative matters include mediation of:
A multi-year billing dispute between a large healthcare system and patients' insurer;
Mass tort claims arising out of the crash of a vintage World War II bomber;
Multi-million professional malpractice claims;
Contractual disputes raising novel defenses arising out of the Covid pandemic;
Post verdict asbsestos award in excess of $20 million dollars
Pullman & Comley's ADR practice is led by Retired Judge Robert L. Holzberg, who served as a Connecticut Superior Court judge for more than 20 years before retiring from the bench in September, 2012. While on the bench he served as the presiding judge for civil matters in the Middlesex, New Britain and Waterbury judicial districts, and most recently served as the Administrative Judge and Presiding Judge-Civil for Middlesex Judicial District. During his career, he earned a reputation for his skill in crafting settlements in some of Connecticut's highest profile and complex cases and became one of the state's most sought-after mediators. Judge Holzberg's mediation and arbitration skill have been consistently recognized by counsel and his peers. He has been recognized for the past two years by Chambers which described him as a "mediation savant." He has also been recognized as a Best Lawyer since 2018 and a Super Lawyer since 2014. In 2023 he was recognized by Best Lawyer as Best Mediator and Best Arbitrator.
Judge Marshall K. Berger (Ret.) joined Pullman & Comley's Alternative Dispute Practice in January 2023 after a distinguished career of nearly 34 years as a Judge of the Connecticut Superior Court. He focuses his practice on the mediation of land use, zoning, environmental, and construction matters. In 2012, he established the Land Use Docket, a specialized Connecticut Superior Court judicial assignment that focused exclusively on land use and environmental cases. He served as the Presiding Judge until 2020, authoring some of the Superior Court's most important and influential land use decisions and presiding over hundreds of hearings and successful mediated settlements.
Michael E. Riley, Retired Connecticut Superior Court Judge, also joined the Firm in May, 2017 after 13 years of service as a Superior Court Judge. As a member of the bench, he served as the Administrative Judge and as Presiding Judge for civil matters in the Judicial District of Windham and most recently as the mediation judge in the Hartford Judicial District Mediation Center. Retired Judge Riley serves as a mediator and arbitrator in state and federal court civil matters.
William J. Wenzel, Connecticut Superior Court Judge (Ret.) focuses his practice on the mediation and arbitration of family law and business disputes. He joined the firm in August, 2022 after retiring from the bench in June of that year. Prior to his appointment to the court in 2009, Judge Wenzel was litigator with Pullman & Comley for 20 years.
Other members of the ADR practice include American Arbitration Association (AAA)-qualified attorneys Andrew C. Glassman, a member of the Commercial Arbitration Panel and the Employment Arbitration Panel with 35 years of corporate and commercial transactional experience, and James T. (Tim) Shearin, who handles mediations and arbitrations of business disputes. Tim is a seasoned litigator who has prosecuted and defended corporate clients in disputes involving breach of fiduciary duty claims; challenged mergers and acquisitions; contract breaches; non-compete, non-solicitation and non-poach agreements; intellectual property, and unfair competition assertions.
Law firms and individual practitioners have called on David Atkins, chair of the firm's Professional Liability practice, to mediate lawyer-to-lawyer disputes over lawyer departures and provisions in firm partnership agreements, or under partnership law, governing compensation, profit distribution and the allocation of recovered contingency fees. In addition, attorney Fred Klein, who has more than 30 years of experience in handling energy, water and utility matters, has been involved in numerous arbitrations and settlements and is an AAA-trained mediator with experience in large complex multi-party mediations.
In 2020, Pullman & Comley was named the top ADR overall provider in in ALM's Best of New England Survey. The firm's ADR Practice was also ranked by Best Lawyers "2021 Best Law Firms" in the highest tier of arbitration practices in the Hartford metropolitan area.
These and many other successful mediations earned the Pullman & Comley ADR practice's designation as "2023 ADR Practice of the Year-New England" by ALM.
Case Studies
During the past five years, members of our ADR team have conducted hundreds of mediations and arbitrations in an array of areas spanning commercial, employment and individual matters.

Faced with claims of employee or management misconduct, municipalities, businesses and educational institutions turn to Pullman & Comley for impartial, thorough and cost-effective investigations.
ADR in the Age of Zoom
ADR in the Age of Zoom
March 26, 2020
As the legal world has shifted overnight and state and federal courts are effectively closed for the foreseeable future, there has been a robust discussion among the bar and ADR providers about how best to provide mediation and arbitration services in a world when we can no longer meet in person.
Here at Pullman our three retired judges and their support team are fully trained and experienced in providing online mediation through Zoom. We have found the process to be simple and accessible. More importantly, the clients, counsel and claims representatives reported a high degree of satisfaction with it. We communicated easily and confidentially. All you need is a computer, laptop or iPad with a camera and speaker and you can mediate from anywhere in the world.
Counsel has been kind enough to let us share with you screen shots of our general session and breakout rooms (see below):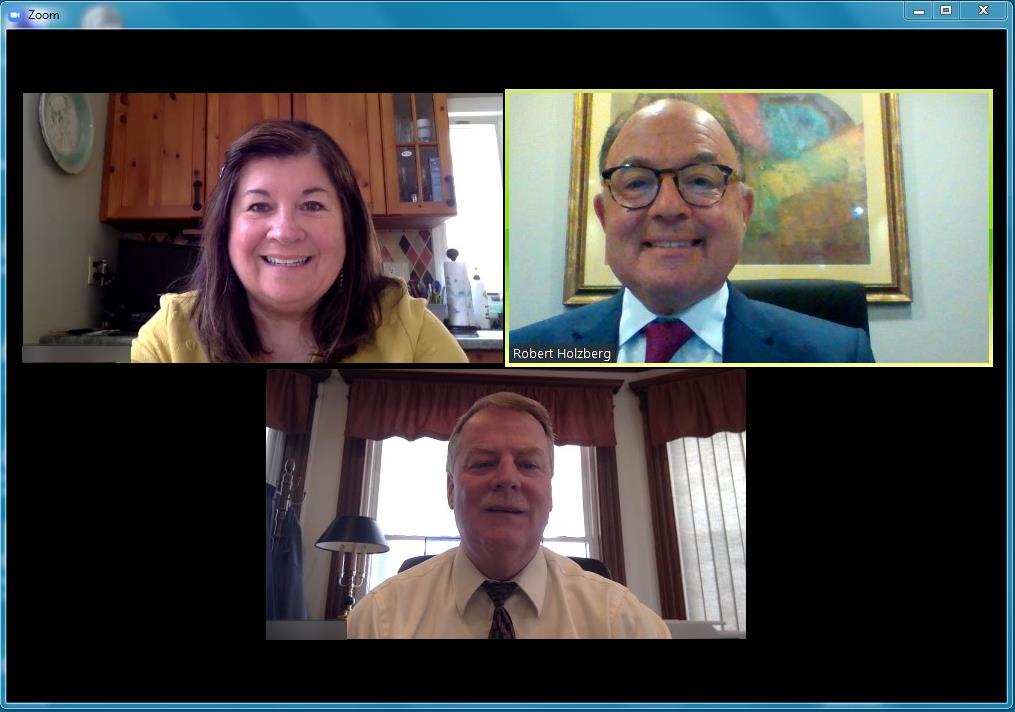 This week alone, we have hosted several mediations, including a personal injury case handled by Judge Holzberg; a multi-party medical malpractice mediation conducted on Zoom by Judge Riley; and a multi-party family mediation involving counsel, parties, experts and guardian ad litems.
We are here to help. We are pleased to offer pre-mediation practice sessions with Zoom at no extra charge. Please contact any one of us to schedule a mediation or arbitration.
On behalf of all of us at Pullman & Comley's ADR practice, we extend our best wishes for the continued safety and well-being of you, your families and staff.
Video Series
Video Series
Pullman & Comley is pleased to introduce our Alternative Dispute Resolution (ADR) Video Series, designed to help clients as they plan for and participate in mediations. Retired Judges Anne C. Dranginis, Robert L. Holzberg and Michael E. Riley, who collectively have more than 65 years of judicial experience and almost 25 years in private mediation, discuss best practices in the world of ADR. The videos, each of which focuses on a different aspect of the mediation process, were excerpted from a conversation the judges recently had over Zoom, like many of their mediations over the past two years.
Mediation Advocacy: Is This a Trial or a Negotiation?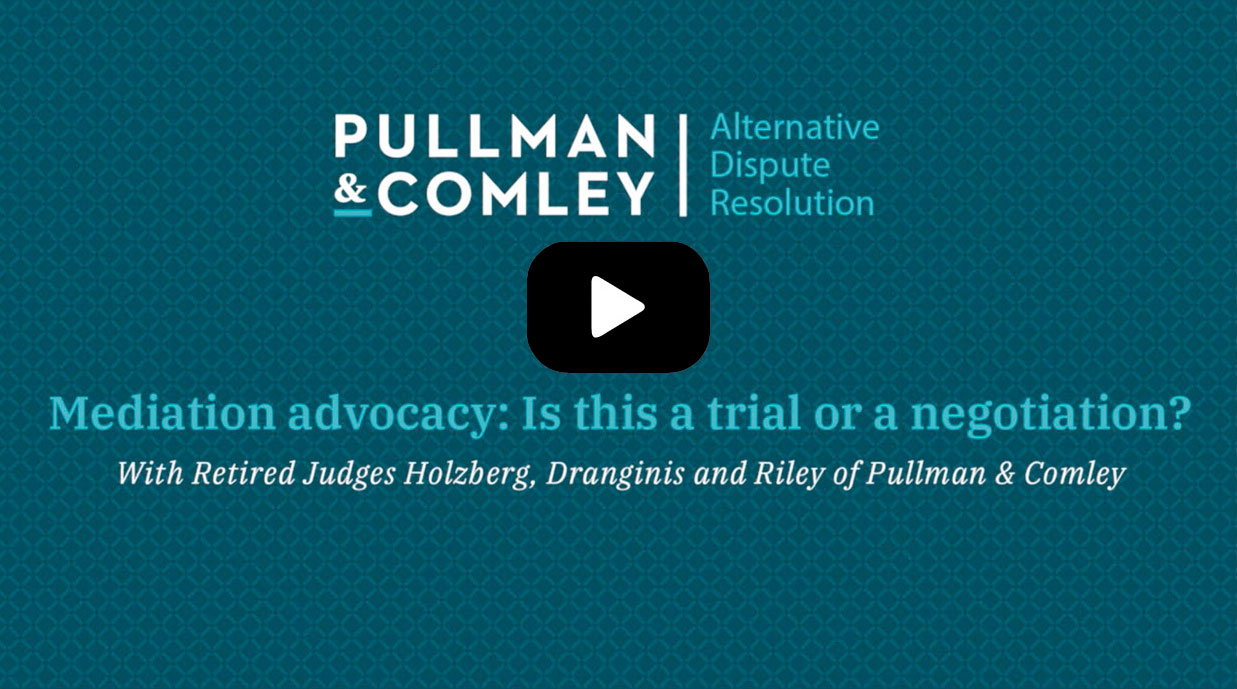 Retired Judges Anne C. Dranginis, Robert L. Holzberg and Michael E. Riley cover important details of mediations, outlining what individuals can expect and realistic goals to set going into a mediation.
How to Deal with Unrealistic Demands/Offers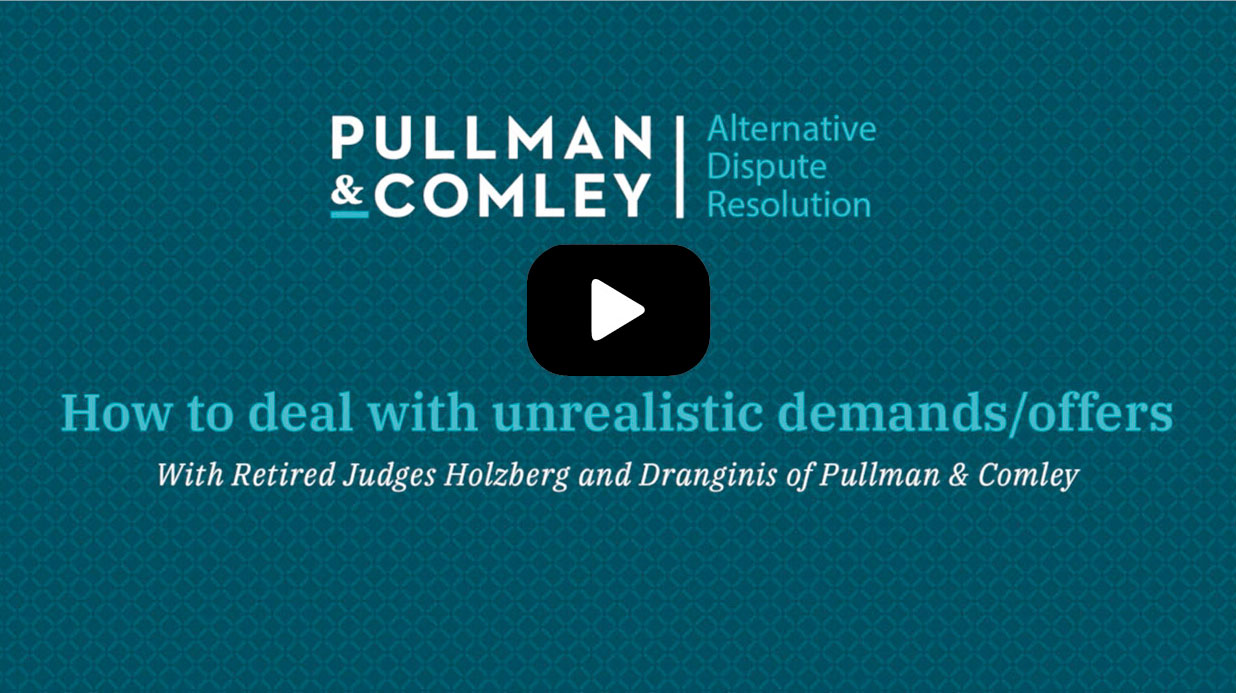 Retired Judges Anne C. Dranginis and Robert L. Holzberg discuss how to navigate different negotiation styles through the mediation process.
Breaking an Impasse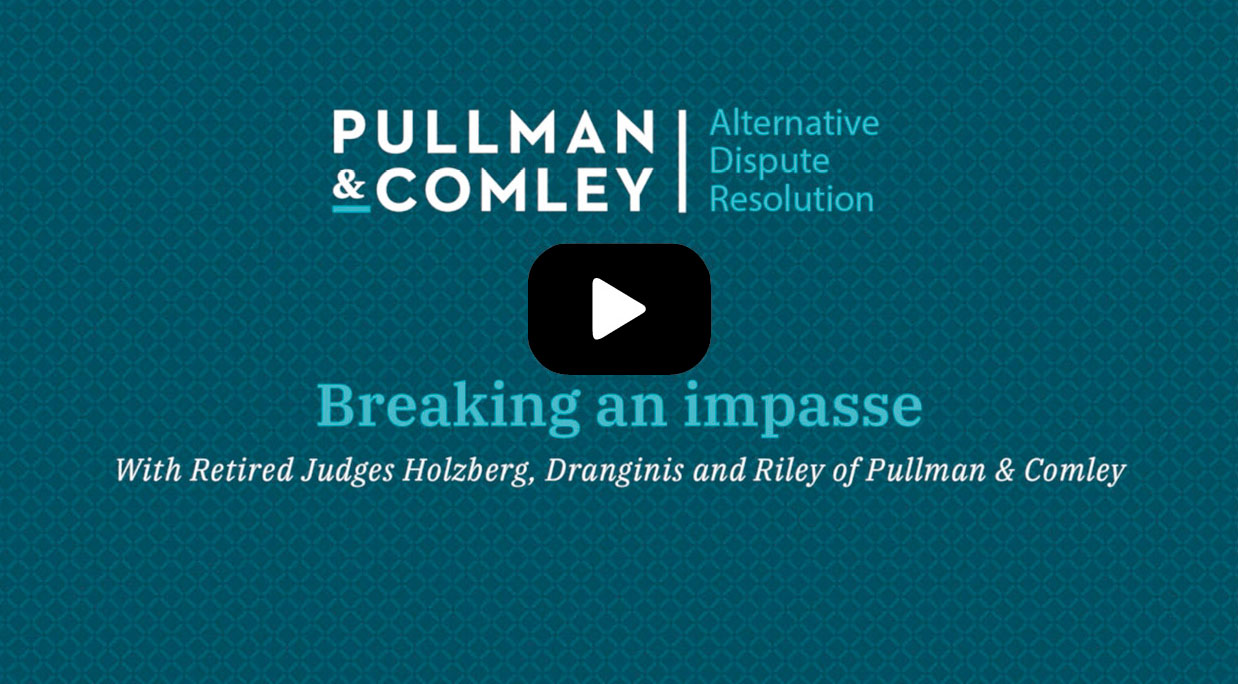 Retired Judges Anne C. Dranginis, Robert L. Holzberg and Michael E. Riley provide practical suggestions on how to break through situations where there seem to be little to no progress being made between parties.
More Videos from our ADR Team:
Virtual Mediation Dos and Don'ts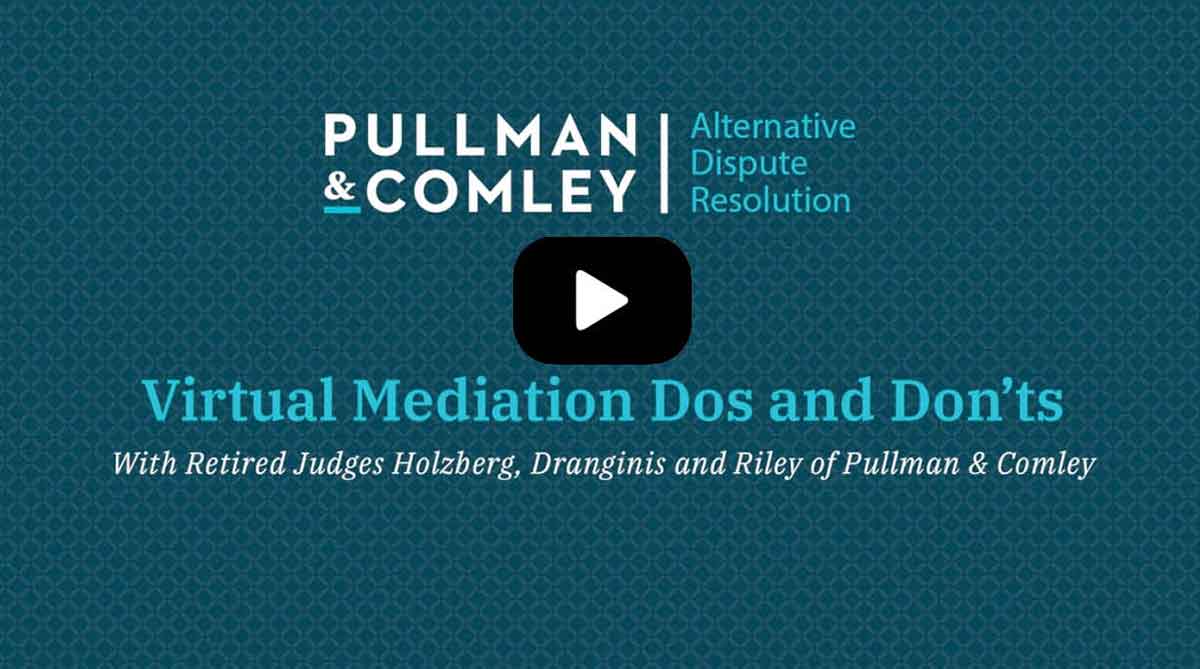 Retired Judges Anne C. Dranginis, Robert L. Holzberg and Michael E. Riley share tips for virtual mediations.
Realistic Primary and Secondary Goals of a Mediation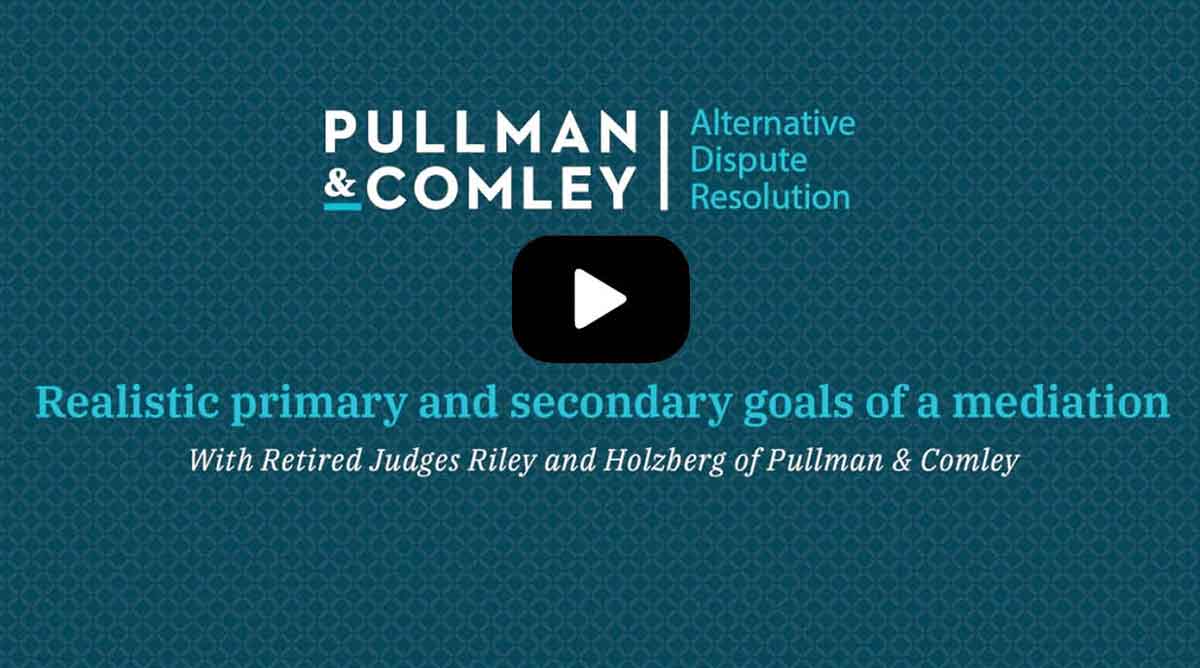 Retired Judges Robert L. Holzberg and Michael E. Riley discuss setting goals for your mediation.
Selecting a Mediator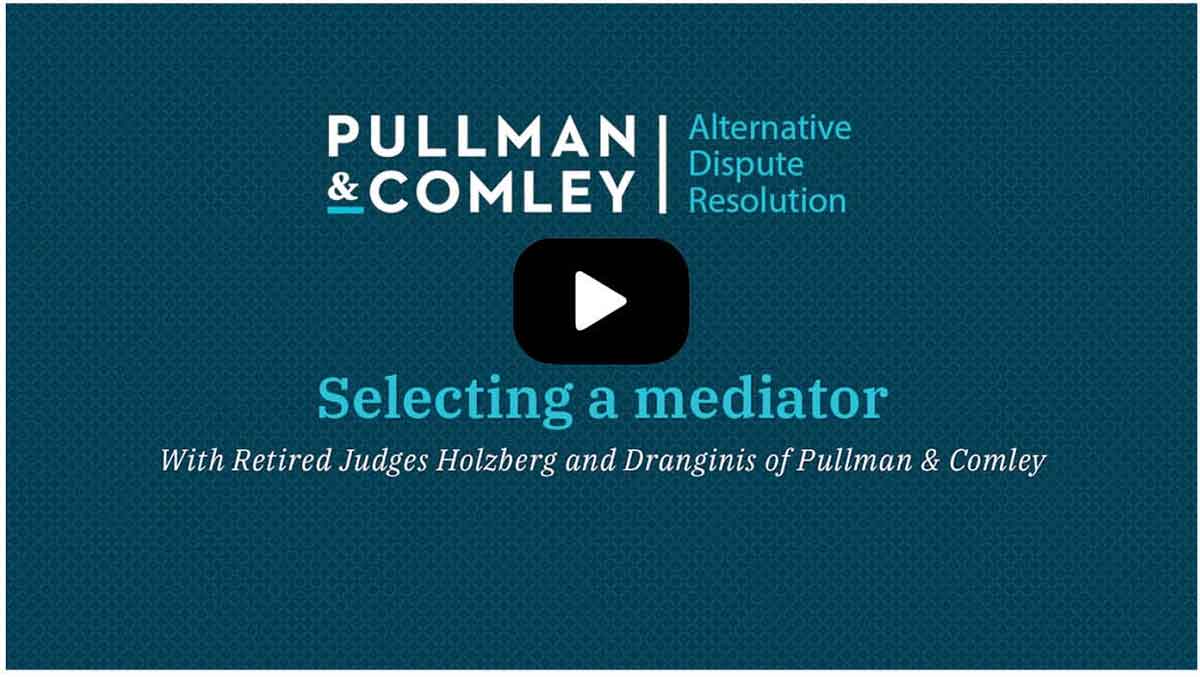 Retired Judges Anne C. Dranginis and Robert L. Holzberg review what to consider when selecting a mediator.