Overview
The Alternative Dispute Resolution (ADR) practice group at Pullman & Comley offers mediation and arbitration services in complex civil matters in state and federal court, including commercial, construction, employment, environmental, health care, insurance, personal injury and probate disputes. In addition, the ADR practice offers services in all family and matrimonial matters including financial, custody and parenting disputes.
In recent years, the number of cases referred to ADR processes has grown exponentially, as parties to conflicts seek to reach mutually agreeable settlements while avoiding expensive, public and time-consuming administrative and court proceedings. The two most common methods of ADR are mediation and arbitration.
Pullman & Comley's ADR practice is led by Retired Judge Robert L. Holzberg, who served as a Connecticut Superior Court judge for more than 20 years before retiring from the bench in September, 2012. While on the bench he served as the presiding judge for civil matters in the Middlesex, New Britain and Waterbury judicial districts, and most recently served as the Administrative Judge and Presiding Judge-Civil for Middlesex Judicial District. During his career, he earned a reputation for his skill in crafting settlements in some of Connecticut's highest profile and complex cases and became one of the state's most sought-after mediators.
In October, 2014 the Firm welcomed Lynda B. Munro, Retired Connecticut Superior Court Judge as a member of the practice after 20 years of distinguished service on the bench. Judge Munro served as Chief Administrative Judge for Family Matters from 2008-2013, Presiding Judge of the Regional Family Trial Docket for seven years and most recently as Presiding Judge for the Family Division of the New Haven Superior Court. She is as a mediator, arbitrator, discovery master and private judge in financial custody and parenting disputes involving families and children, pre-nuptial and post-nuptial agreements.
Anne C. Dranginis, Retired Connecticut Appellate Court Judge, joined the Firm as a member in fall 2016. She retired in January 2006 as an Associate Judge of the Connecticut Appellate Court after serving for more than 21 years on the Superior and Appellate Court bench. As a member in the Family Law Practice, Judge Dranginis focuses on litigation matters involving matrimonial law, corporate compliance and governance, trial strategy, arbitration and mediation, with a particular focus in appellate mediation.
Michael E. Riley, Retired Connecticut Superior Court Judge, also joined the Firm in May, 2017 after 13 years of service as a Superior Court Judge. As a member of the bench, he served as the Administrative Judge and as Presiding Judge for civil matters in the Judicial District of Windham and most recently as the mediation judge in the Hartford Judicial District Mediation Center. Retired Judge Riley serves as a mediator and arbitrator in state and federal court civil matters.
Other members of the ADR practice include American Arbitration Association (AAA)-qualified attorneys Andrew C. Glassman, Ronald C. Sharp and H. William Shure, who handle both mediation and arbitration, and James T. Shearin, who handles private mediation cases.
In 2016, Judge Munro and Judge Holzberg were voted "The Best" Individual Mediator and Arbitrator by the readers of the Connecticut Law Tribune. The Mediation Practice was also ranked by Best Lawyers "2017 Best Law Firms" in the highest tier of mediation practices in the Hartford metropolitan area.
Case Studies
During the past five years, members of our ADR team have conducted hundreds of mediations and arbitrations in an array of areas spanning commercial, employment and individual matters.

Faced with claims of employee or management misconduct, municipalities, businesses and educational institutions turn to Pullman & Comley for impartial, thorough and cost-effective investigations.
ADR in the Age of Zoom
ADR in the Age of Zoom
March 26, 2020
As the legal world has shifted overnight and state and federal courts are effectively closed for the foreseeable future, there has been a robust discussion among the bar and ADR providers about how best to provide mediation and arbitration services in a world when we can no longer meet in person.
Here at Pullman our four retired judges and their support team are fully trained and experienced in providing online mediation through Zoom. We have found the process to be simple and accessible. More importantly, the clients, counsel and claims representatives reported a high degree of satisfaction with it. We communicated easily and confidentially. All you need is a computer, laptop or iPad with a camera and speaker and you can mediate from anywhere in the world.
Counsel has been kind enough to let us share with you screen shots of our general session and breakout rooms (see below):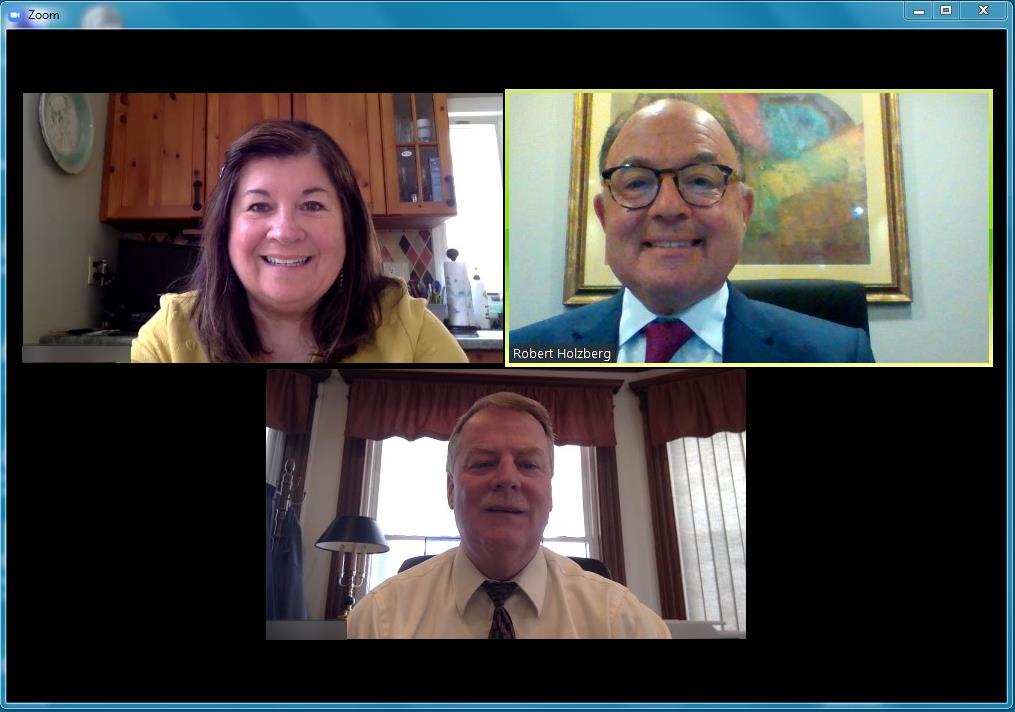 This week alone, we have hosted several mediations, including a personal injury case handled by Judge Holzberg; a multi-party medical malpractice mediation conducted on Zoom by Judge Riley; and a multi-party family mediation involving counsel, parties, experts and guardian ad litems handled by Judge Munro.
We are here to help. We are pleased to offer pre-mediation practice sessions with Zoom at no extra charge. Please contact any one of us to schedule a mediation or arbitration.
On behalf of all of us at Pullman & Comley's ADR practice, we extend our best wishes for the continued safety and well-being of you, your families and staff.