PRESS RELEASE: Pullman & Comley Opens New Office Location in Waterbury
WATERBURY, CT, April 1, 2014: Dozens of people from Waterbury businesses, City of Waterbury officials, and friends and clients of Pullman & Comley, LLC gathered on March 25 for the ribbon cutting ceremony and reception to celebrate the opening of the firm's new Waterbury location. Located at 255 Bank Street, the larger office facilities will enable the firm to better serve clients and create a greater presence in the Waterbury region.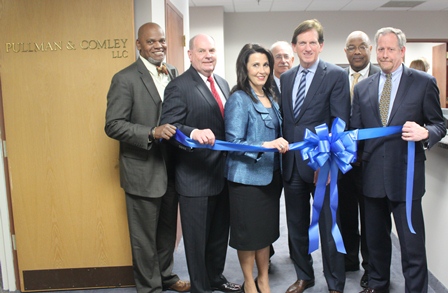 Pictured in photo, from left to right: James Gatling, president and CEO of New Opportunities, Inc.; Joe McGrath, City of Waterbury Economic Development Director; Lynn Ward, Waterbury Regional Chamber President and CEO; Rob Morris, partner, Pullman & Comley; Gary B. O'Connor, partner, Pullman & Comley; Monroe Webster, Waterbury Administrative Aide; Tim Shearin, chairman, Pullman & Comley.
About Pullman & Comley:
With nearly 90 attorneys, Pullman & Comley, LLC is one of Connecticut's largest firms and provides a wide range of legal services to clients in the New England region, as well as throughout the United States and internationally. The firm's major practice areas include business organizations and finance; environmental and land use; government finance; health care; labor, employment law and employee benefits; litigation; property valuation; real estate; regulatory, energy and telecommunications; and trusts and estates. The firm has offices in Bridgeport, Hartford, Stamford, Waterbury and White Plains. The firm is an active member of the Law Firm Alliance, an international affiliation of law firms. For more information, please visit www.pullcom.com.