PRESS RELEASE: Pullman & Comley, LLC and People's United Bank Host Successful Greater Bridgeport 'Celebrating Diversity' Business Reception
BRIDGEPORT, CT – People's United Bank partnered with law firm Pullman & Comley, LLC to host a reception celebrating diversity in the Greater Bridgeport business community on the evening of October 23, 2013. The event, which took place at the People's United corporate headquarters, 850 Main Street, highlighted the work of local women- and minority-owned businesses and attracted more than 200 area business owners, community leaders, and non-profit representatives.
"We are thrilled with the response to this celebration," said Armando Goncalves, Southern Connecticut Market President, People's United Bank. "People's United deeply values diversity, both within our organization and among our customers, and we understand the role it plays in Bridgeport's promising future. Our differences are also our greatest strengths, especially in our business communities."
Jessica Grossarth, chair of Pullman & Comley's Diversity Committee, commented, "One of our goals was to provide an opportunity for area businesses to network and learn from multiple perspectives and experiences. We were proud to be part of an event that brought together so many dynamic business professionals under one roof."
Five local businesses − Brody Printing, Doreen Birdsell Photography, Falcon Advertising, Mariah's Chow Chow Relish and Wiley Specialty Foods, Inc. − showcased their products and services at the event. The reception was sponsored by the Bridgeport Regional Business Council, the City of Bridgeport's Small & Minority Business Resource Office, the Hispanic Chamber of Commerce of Greater Bridgeport and the Greater New England Minority Supplier Development Council.
In honor of the occasion, Goncalves and James (Tim) Shearin, Chairman of Pullman & Comley, jointly presented a check to Junior Achievement of Western Connecticut during the reception, accepted by Bernadine Venditto, the organization's president.
About People's United
People's United Bank is a subsidiary of People's United Financial, Inc., a diversified financial services company with $31 billion in assets. Founded in 1842, People's United Bank is a premier, community-based, regional bank in the Northeast offering commercial and retail banking, as well as wealth management services through a network of 412 retail locations in Connecticut, New York, Massachusetts, Vermont, New Hampshire and Maine.
About Pullman & Comley, LLC
With nearly 90 attorneys, Pullman & Comley, LLC is one of Connecticut's largest firms and provides a wide range of legal services to clients in the New England region, as well as throughout the United States and internationally. The firm's major practice areas include business organizations and finance; environmental and land use; government finance; health care; labor, employment law and employee benefits; litigation; property valuation; real estate; regulatory, energy and telecommunications; and trusts and estates. The firm has offices in Bridgeport, Hartford, Stamford, Waterbury and White Plains. The firm is an active member of the Law Firm Alliance, an international affiliation of law firms.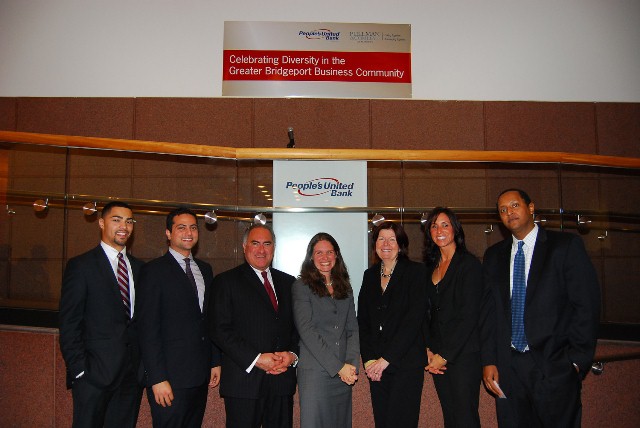 Photo: Pictured from left to right are members of Pullman & Comley's Diversity Committee, including: Erick Russell, Assaf Ben-Atar, Alex Hernandez, Megan Carannante, Liz Austin, Jessica Grossarth and Yeshake Yilma.