Pullman & Comley, LLC Hosts Event To Kick Off Greater Hartford Arts Council 2012 Workplace Campaign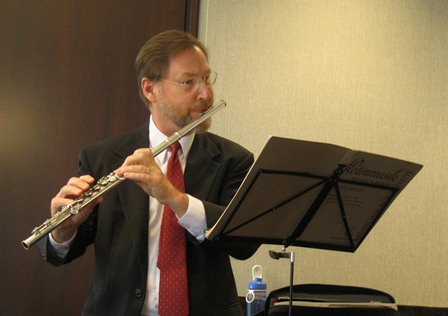 HARTFORD: Employees of the Hartford offices of Pullman & Comley LLC and Wells Fargo gathered at Pullman & Comley's office at 90 State House Square on Wednesday, May 23 for a lunchtime concert with Carolyn Kuan, Music Director and Greig Shearer (pictured), principal flutist with the Hartford Symphony Orchestra. The event kicked off the firms' Greater Hartford Arts Council 2012 Workplace Campaign.
Each year, the Greater Hartford Arts Council asks businesses, individuals and foundations to invest in the more than 150 area arts & heritage organizations by making a contribution to the annual United Arts Campaign. During the campaign the Council solicits leadership support from local corporations and major donors, runs workplace giving events in businesses of all sizes to motivate employee gifts, plans fundraising and community events to celebrate the arts and asks the residents of Greater Hartford to contribute.
Pullman & Comley LLC has a strong tradition of supporting the Greater Hartford Arts Council, and in 2009 its Hartford office achieved 100 percent employee participation in the annual workplace campaign. Attorney Morris W. Banks is a member of the Council's board of directors and serves as vice president and chair of the Governance Committee.
About the Greater Hartford Arts Council
The Greater Hartford Arts Council provides leadership for the financial success and organizational stability of the arts, cultural and heritage community. In addition to fundraising to support the arts, the Greater Hartford Arts Council is a national leader in grant making and cultural promotions. It provides a number of different grant programs to distribute the money it has raised to the arts and heritage organizations in Greater Hartford. These grants range from general operating support — unrestricted dollars that ensure arts institutions can pay their bills and continue to produce innovative programming — to project-specific grants that support jobs, promote collaboration, and raise the profile of the arts in Greater Hartford.
About Pullman & Comley
Pullman & Comley, LLC provides a wide range of legal services to clients in the New England region, as well as throughout the United States. The firm's major practice areas include corporate and business, environmental, health care, litigation, public and commercial finance, property valuation, real estate and trusts and estates. The firm has offices in Bridgeport, Hartford, Stamford, Waterbury and White Plains. For more information, please visit www.pullcom.com.