Pullman & Comley's Winter Party Highlights Work Of Oak Hill and The Open Hearth
Hartford,: Nearly five-hundred members of the Greater Hartford Business Community gathered on the evening of January 31 to celebrate Pullman & Comley's 2013 Winter Party at the Society Room of Hartford. This year's event highlighted the work of two local nonprofit organizations which have both been in operation for more than 120 years – Oak Hill and The Open Hearth.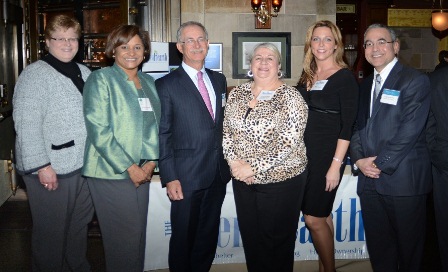 Pictured in photo, from left to right: Ruth Hayes and Ana Maria Mitchell, Oak Hill; Rob Morris, chairman, Pullman & Comley, LLC; Marilyn Rossetti and Jennifer Traks, The Open Hearth; and Greg Servodidio, partner, Pullman & Comley, LLC.
Oak Hill, the largest private non-profit community provider of services for people with disabilities in Connecticut, supports people with disabilities in all stages of life through education, assistive technology, programs and advocacy. For additional information on Oak Hill, visit: www.ciboakhill.org.
The Open Hearth provides a temporary residential community environment where homeless men are provided with the resources to regain their lives and achieve their full potential as responsible citizens through recovery to employment. For additional information on The Open Hearth, visit: www.theopenhearth.org.
About Pullman & Comley:
Pullman & Comley, LLC provides a wide range of legal services to clients in the New England region, as well as throughout the United States and internationally. The firm's major practice areas include corporate and business, environmental, health care, litigation, public finance, property valuation, real estate and commercial law, and trusts and estates. The firm has offices in Bridgeport, Hartford, Stamford, Waterbury and White Plains. For more information, please visit www.pullcom.com.