PRESS RELEASE: Pullman & Comley's Annual Women's Tea Highlights Work of Norma F. Pfriem Urban Outreach Initiatives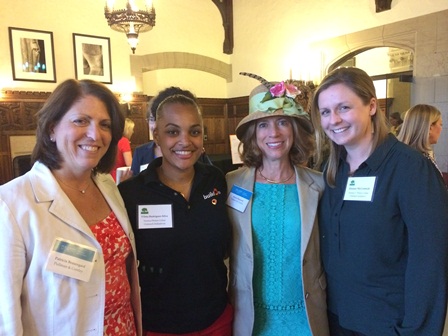 Pictured in photo, from left to right: Patricia Beauregard, partner, Pullman & Comley; Vilma Rodrigues-Silva, Program Coordinator, buildOn; Nancy A. D. Hancock, partner, Pullman & Comley; and Eleanor McCormick, Executive Director, Norma F. Pfriem Urban Outreach Initiatives.
FAIRFIELD, CT,: Nearly 200 women gathered earlier this month to celebrate Pullman & Comley's 2014 Networking Tea held at Fairfield University's Bellarmine Hall. Now in its 17th year, the annual event hosted by Pullman & Comley's Women's Leadership Initiative provides an opportunity for women professionals to network while also supporting the work of a local nonprofit organization.
This year's event highlighted the work of the Norma F. Pfriem Urban Outreach Initiatives, a mission-magnet organization that supports volunteer-powered, food-centered, community-anchored initiatives bringing hope to the City of Bridgeport. In addition to the food pantry, several of the current programs sponsored by the organization include "Project Learn" after school tutoring, "Feel the Warmth" weekly supper, a cancer support group, urban work camps, English as a Second Language education and community gardens.
About Pullman & Comley:
With nearly 90 attorneys, Pullman & Comley, LLC is one of Connecticut's largest firms and provides a wide range of legal services to clients in the New England region, as well as throughout the United States and internationally. The firm's major practice areas include business organizations and finance; environmental and land use; government finance; health care; labor, employment law and employee benefits; litigation; property valuation; real estate; regulatory, energy and telecommunications; and trusts and estates. The firm has offices in Bridgeport, Hartford, Stamford, Waterbury and White Plains. The firm is an active member of the Law Firm Alliance, an international affiliation of law firms. For more information, please visit http://www.pullcom.com.