In this Summer 2013 Issue:
New Legislation - Personnel Files and Non-Compete Agreements
New Burdens in Defending Employment Lawsuits
New Notice Requirement Under Health Reform Law
Pullman & Comley Welcomes Six New Attorneys
New Legislation - Personnel Files and Non-Compete Agreements
The dust has settled from the mad dash that is the end of the Connecticut General Assembly session. This year has had more unpredictability than in the past, and there are some notable changes that employers should be aware of.
Personnel Files Act
Non-Compete Agreements
Paid FMLA Study
Bills that Died
As always, be sure to check with Pullman & Comley attorneys if there is a particular bill that you are concerned about or have been following.
For more information, please contact Dan Schwartz at 860.541.3306 or by email at dschwartz@pullcom.com.
New Burdens in Defending Employment Lawsuits
The number of employment discrimination cases filed in federal court has increased 3.5 percent since 2006. "Employment cases are a significant percentage of the federal docket," said Judge John Koetl of the Southern District of New York. In February 2012, in an effort to streamline these cases to judgment, the Federal Court introduced a pilot program called "Initial Discovery Protocols for Employment Cases Alleging Adverse Action" (the "Protocols").
The Protocols require parties to exchange information and documentation commonly produced in employment discrimination cases during the discovery phase of litigation within 30 days of the filing of defendant's answer or Rule 12(b) motion. For employers, this includes the employee's personnel file, relevant employee handbook provisions and policies, communications between the employee and his/her supervisor and/or human resources, and "any other document(s) upon which the defendant relies to support the[ir] defenses, and counterclaims…."
For employees, this includes any diary or journal he/she kept, the administrative charge filed with the CHRO or EEOC, documents showing the employee's job search efforts, and "any other document(s) upon which the plaintiff relies to support [their] claims."
As its name suggests, the Protocols will apply only to those employment cases where an employee alleges that he or she suffered an "adverse action" (demotion, termination, etc.). This does not include sexual harassment, hostile work environment, failure to accommodate claims or claims, brought under the Fair Labor Standards Act, Family Medical Leave Act, or the Employee Retirement Income Security Act.
The Protocols are too new to determine if they have had any measurable impact on moving cases along. To date, in the District of Connecticut, it seems that most, but not all of the judges have adopted the Protocols. They have been endorsed by the District Court's Chief Judge and therefore may become routine in the coming years.
Employers defending discrimination suits in federal court should be mindful of these Protocols when budgeting for litigation should they have a Judge who has adopted them. The Protocols ought to minimize opportunities for gamesmanship and reduce discovery disputes. The Protocols will also require employers to evaluate the strengths and weaknesses of each case earlier, which may be beneficial for purposes of settlement. On the other hand, complying with these mandates so soon after the case has been filed is a burdensome and expensive task for employers, especially in frivolous cases where minimal discovery is otherwise done.
For more information, please contact Rachel Ginsburg at 860.424.4372 or by email at rginsburg@pullcom.com.
New Notice Requirement Under Health Reform Law
Under the new health care reform law, employers subject to the Fair Labor Standards Act ("FLSA") must provide a written notice to employees informing them about the new health care exchanges (to be effective January 1, 2014). On May 8, 2013, the Department of Labor (DOL) released guidance on the notice requirement and confirmed that the notice must be automatically provided to current employees by October 1, 2013, and to employees hired after October 1, 2013 at their hire. For 2014 the notice will be considered timely if provided within 14 days of an employee's start date.
The notice must include a description of the services provided by the health care exchanges and the manner in which an employee may obtain more information about the health care exchanges. The notice must also explain that an employee may be eligible for a premium tax credit if the employee buys a health plan through a health care exchange (e.g., Connecticut's "Health Access CT"). Further, the notice must state that an employee who purchases health care through a health care exchange will lose any employer contribution toward the cost of his or her health coverage.
All employees must receive the notice regardless of their full- or part-time status and regardless of whether they are enrolled in the employer's health plan. The notice must be provided in writing in a manner calculated to be understood by the average employee, and it must be provided free of charge. The DOL has provided two model notices to assist employers in providing the required information. One model is for employers that do not offer a health plan and another model is for employers that offer a health plan to some or all employees.
The DOL guidance also provides a model COBRA election notice, which includes information regarding coverage under the health care exchanges. All of the model notices are available on the DOL's website at www.dol.gov/ebsa/healthreform.
For more information, please contact George Kasper at 203.330.2119 or by email at gkasper@pullcom.com.
Pullman & Comley Welcomes Six New Attorneys
Pullman & Comley, LLC is pleased to announce the addition of six new attorneys. The attorneys will be based in Pullman & Comley's Hartford office and include four partners: William R. Connon, Michael P. McKeon,John P. Shea, Jr. and Mark J. Sommaruga, as well as two associates: Zachary D. Schurinand Susan L. Scott.
All six join the firm from Sullivan, Schoen, Campane & Connon, LLC, one of Connecticut's first law firms devoted to representing school boards. At Pullman & Comley, they will provide legal guidance on a full spectrum of education law issues including board governance, special education, Freedom of Information requests, student discipline and residency, bidding and procurement procedures, vendor contracts, teacher discipline, building committees and budget referendums. Additionally, the group will handle all aspects of public sector labor and employment law and will continue to represent school districts as well as regional educational service centers, municipalities, housing authorities, water districts and transit districts in the areas of labor negotiations, mediations, interest arbitrations, grievance arbitrations, employment litigation and administrative proceedings.
"Our new attorneys have an excellent and established reputation in educational law and representing school boards and municipalities," says Rob Morris, chairman of Pullman & Comley. "They will expand our practice area providing services to educational institutions, and broaden our services to our many municipal clients."
The new attorneys will be members of the Labor, Employment Law and Employee Benefits Department and the firm's School Law Practice.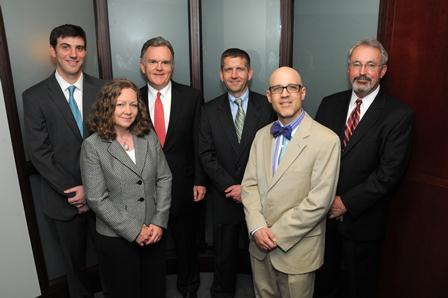 To read the full press release, please click here.
©2013 Pullman & Comley, LLC. All Rights Reserved.
Back to Top