February 12, 2019
Lamont Forms Economic Development Partnership
The Lamont Administration announced that David Lehman, Global Head of Real Estate Finance for the Investment Banking Division of Goldman Sachs, will be the new Commissioner of the Department of Economic and Community Development (DECD). As part of this announcement, Lamont unveiled an historic partnership that will be formed between DECD and the Connecticut Economic Resources Center (CERC) known as the Partnership to Advance the Connecticut of Tomorrow or "PACT" for short. CERC is a nonprofit organization that was formed by the state's utilities to promote economic growth in the State of Connecticut. Over the years, its role has expanded to provide research assistance and services to municipalities.
Lehman expects that CERC will act as the business recruitment arm for the State. CERC will now be co-chaired by two high profile business icons--Jim Smith, former Chairperson of Webster Bank, and Indra Nooyi, former Chairperson of Pepsico. "We look forward to expanding CERC's board, making it illustrative of the Connecticut we are, but more importantly, the Connecticut we want to be," Nooyi and Smith said in a joint statement. "The most visible change at CERC will be the redirection and exponential expansion of resources available to engage directly in business development activities. We'll recruit ambassadors from the business community to provide financial support and active participation in business development. We are excited to leverage our private sector relationships and experience as we aggressively attract businesses and market our state as a place with an educated workforce, a great quality of life, and a supportive state government."
Governor Lamont's Office described the new arrangement as a way to provide "white-glove, expedited, personal service" to businesses located in the state of Connecticut or looking to come into Connecticut. The Governor's Office also delineated the new roles and responsibilities of each part of PACT in graphic form, a copy of which is included on the next page of this alert.
For the past three years, Pullman & Comley has served as counsel to CERC.
For more information, please contact Brad Mondschein at bmondschein@pullcom.com and 860-424-4319 or your Pullman Relationship Attorney. Attorney Mondschein is a member of the Board of CERC.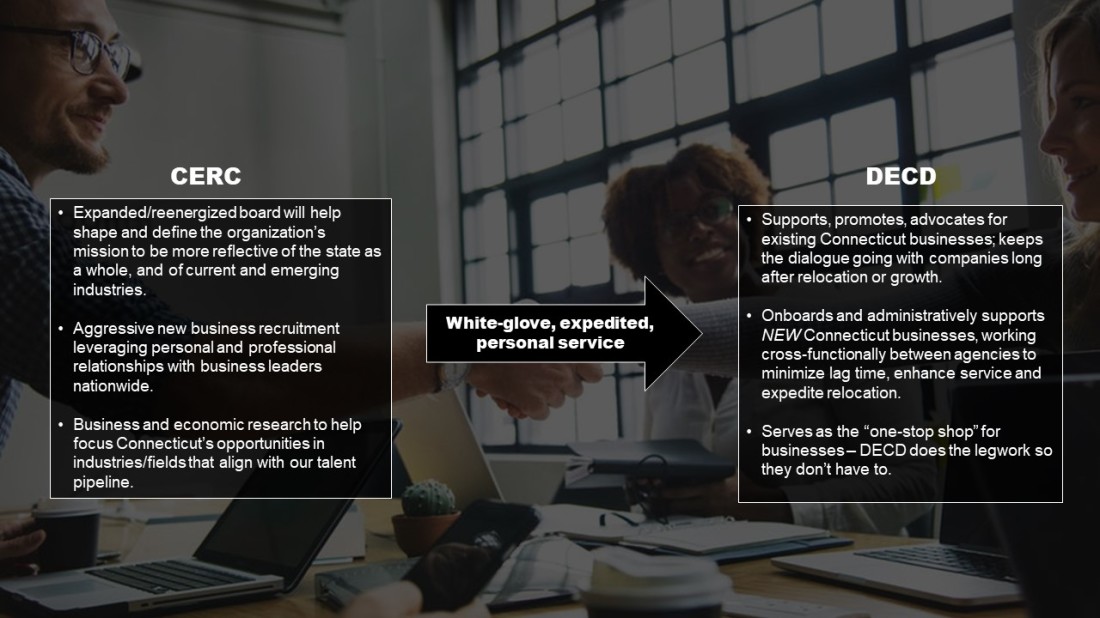 Back to Top