Designing Pension Plans that Meets Town and Employee Needs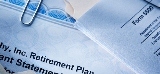 Our client, the Town of East Windsor, was faced with increasing annual funding obligations for its pension plan, despite closing the pension to new employees years ago. It was also having difficulty recruiting new employees and retaining current employees due to neighboring towns that offered more enhanced pension benefits. To address these concerns, Town officials asked Pullman & Comley to assist them in designing and implementing an alternative retirement benefits program.
Working with our employee benefits and labor law attorneys, as well as the Town's actuary, Town officials and union representatives came to agreement on a dual plan arrangement. Pullman & Comley attorneys drafted the necessary plan documents and employee communications that resulted in lower and more consistent pension funding obligations and lower investment risk for the Town. The employees now contribute slightly more than before, but they gain the disability benefit and the certainty of a reasonable retirement benefit. This was a win-win for all involved.