Expanding Our Role and Commitment Toward Diversity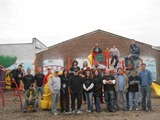 Throughout the year, Pullman & Comley's Diversity Committee engaged in numerous activities that demonstrated the firm's commitment to diversity while fostering an understanding and acceptance for the array of diversity that exists in our firm and the communities in which we live and serve. In addition to our internal activities that raised awareness and education about the importance of diversity, our efforts extended outside the firm to include organizational involvement, sponsorships, diversity seminars and community service. A highlight of our activities was, "Celebrating Diversity in the Greater Bridgeport Business Community, " an event we co-sponsored with People's United Bank. Drawing more than 200 area business owners, community leaders and nonprofit representatives, the networking event featured the work of local women- and minority-owned businesses.
Members of our firm were also active in supporting several affinity groups' efforts including the Hispanic Bar, the South Asian Bar, the Lawyers' Collaborative for Diversity, the Connecticut Asian Pacific American Bar and The Hartford Gay & Lesbian Health Collective.
In a significant development in 2013, we worked closely with the Connecticut Bar Association to launch a new LGBT section and are proud that two of our attorneys serve on the board of this new section: Jessica Grossarth as chair and Erick Russell as treasurer.
Pullman & Comley will continue to expand our role inpromoting diversity with efforts geared toward public service and providing information and assistance in dealing with diversity issues.