Innovative Business Turns Guns into Jewelry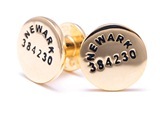 One of the most satisfying opportunities our profession offers is the chance to apply legal acumen in support of a worthy cause. This year, we were able to do just that for our client, Jewelry for a Cause, LLC, an innovative new social venture seeking to address gun violence in America by turning illegal guns into jewelry, and using the proceeds of the jewelry sales to fund gun buybacks and support programs for victims of shootings and their families.

Soon after Jewelry for a Cause's first groundbreaking guns-to-jewelry project with the City of Newark, New Jersey, the nascent company was named in an intellectual property lawsuit that threatened to stop it from expanding its work to more cities in need. Pullman & Comley attorneys fought back for our client, obtaining withdrawal of the suit with no payment of money and no change in Jewelry for a Caus's business operations. We then counseled Jewelry for a Cause in obtaining trademark protection and began licensing them to like-minded artists for artworks speaking out against gun violence. We are proud to have been able to contribute to Jewelry for a Cause's initiatives to take action against gun violence.