Assisting in the Expansion of Bridgeport Hospital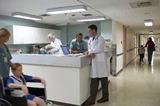 In 2013, Pullman & Comley represented Bridgeport Hospital in connection with the development and financing of a new medical office building, containing approximately 120,000 square feet, and a structured parking garage, containing more than 500 parking spaces. The medical office building is being constructed in a newly created condominium unit in Trumbull, Connecticut and the parking garage is being constructed in an adjoining newly created condominium unit in Bridgeport, CT.
The medical office building will be adjacent to The Norma F. Pfriem Cancer Institute Park Avenue Campus, which currently enables cancer patients the ability to receive life-saving radiation in Fairfield County. Once completed, this medical complex will provide a full array of the most technologically-advanced cancer treatments in a convenient, suburban setting.
The firm's attorneys represented the Hospital in all phases of the development, including drafting and negotiating condominium documents; a development agreement; ground lease and improvements lease documents; financing documents; and various cross-easements between two condominium associations.