Improving Security Features for Connecticut Driver Licenses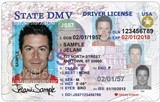 Digitally mastered holograms; laser engraved tactile features; ghost portraits; laser engraved microprints; tamper evident laminates; and ultraviolet light images – don't be surprised if your next driver's license contains one or more of these state-of-the-art security features.
Over the next year, the State of Connecticut, Department of Motor Vehicles, will be converting its driver license and non-driver identification card issuance system from a non-integrated system to a highly secure, centralized issuance system. Connecticut will be complying with the federal Real ID Act of 2005, which turns state driver's licenses into a national identity card. As State and federal laws have modernized security requirements, Connecticut determined that it needed a state-of-the-art system for producing and issuing new, secure credentials and embarked upon a competitive bid process that brought experienced providers of identity solutions and services from all over the world to the table. The State chose Pullman & Comley to assist it in managing the process – from the technology solution presentations to the negotiation and drafting of the Information Processing System and Services Agreement with the chosen vendor.
This Agreement will result in a modernized, compliant credential issuance system for Connecticut, providing accurate, secure and timely-issued driver's licenses that meet or exceed the new requirements.
"We are always working to improve and strengthen our identity credentialing. This project builds on that foundation both on state and federal levels."
Melody A. Currey, Commissioner of the Department of Motor Vehicles