Affinity Healthcare Management: Reorganizing to Maintain Superior Care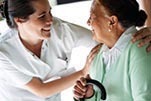 In 2010, Pullman & Comley's Bankruptcy and Creditors' Rights practice helped the owners of Affinity Healthcare Management, which has skilled nursing facilities in the Greater Hartford area, emerge from bankruptcy without a change in ownership.
This was the first successful reorganization of a nursing home facility in Connecticut since 2005, and one of only two such reorganizations in more than 10 years. The reorganization was accomplished through the combined efforts of Affinity and several federal and state agencies, as well as through the support of their vendors and employees. The facilities, which are renowned for their superior patient care, maintained the high level of care throughout the bankruptcy reorganization efforts.
The firm worked closely with the Connecticut Department of Social Services, the Connecticut Department of Revenue Services, the U.S. Department of Housing and Urban Development and the Internal Revenue Service to modify the HUD-held mortgages, which led to substantial savings in annual rent for the homes. The reorganization resulted in the forgiveness of certain tax obligations; long-term repayment plans for the balance of past due taxes; and a settlement with the Connecticut Department of Social Services that substantially reduced prepetition obligations that would have otherwise prevented the entire reorganization.
"The reorganization process has permitted us to focus on what Affinity does best, and we are stronger than ever. Pullman & Comley's ability to coordinate with the Connecticut Department of Social Services, HUD and the IRS played a critical role in keeping these homes open." – Benjamin Fischman, Managing Member, Affinity Healthcare Management